Our team represents an ideal mix of commercial, clinical and operational people all of whom have significant experience in the clinical trials space.
The team comprises a core set of full-time clinical staff supplemented by a pre-vetted group of GCP accredited contract clinical staff who have been schooled in VX Pharma's codes of practice.
THE EXECUTIVE TEAM
The key members of the VX Pharma team have exemplary credentials that are highly relevant to their respective business roles:
Dr. Mark Fyvie (PhD, Cantab)
Co-founder and CEO
Mark is an entrepreneur with a core focus on biotechnology ventures. He most recently founded VX Pharma, a therapeutics clinical development business which is focused on therapeutic areas most affecting the developing world, especially HIV. Prior to VX Pharma, Mark served as CEO and founding member of the Cape Biotech Investment Trust (a government-funded biotech industry stimulus programme) funding and incubating VC investments in excess of $100 million in new life-science ventures. Of the portfolio of companies at Cape Biotech, one investment exited to a major multinational pharmaceutical company at circa 100x multiple: the 2nd largest tech-exit in the history of South Africa. As an internationally credentialled business strategy consultant, Mark has deployed his expertise in unlocking novel innovation value through deep commercialisation strategies for pharmaceutical, biotech, clinical research, and e-finance organisations, including FirstRand Bank, Liberty Health and Accenture, where he worked in the business strategy practice. Mark serves on numerous boards and donates significant time to pro bono work in the South African innovation ecosystem.
Contact: mark.fyvie@vxpharma.com
Dr. Paul Abrahams (MD, Wits) (MBA, Oxon)
Co-founder, International Business Development
Paul practiced as an ER physician for several years and was appointed as a research physician at a leading in-patient clinical trials unit based at the Chelsea and Westminster Hospital, London, in 1997. He subsequently read for an MBA at the University of Oxford and completed his thesis with an LSE listed biotech company. Paul returned to South Africa to co-found an integrated healthcare company (later sold) and subsequently joined Investec Bank. In 2003 Paul left the banking world to focus on an entrepreneurial career where he has been involved in founding various healthcare start-up businesses as well as consulting to numerous established corporates in the sector. Paul continues to serve as a non-executive director & advisor to a number of businesses in the life sciences and healthcare technology sectors both in South Africa and the UK.
Contact: paul.abrahams@vxpharma.com
PHARMACY
VX Pharma houses a fully registered pharmacy on site which is currently undergoing GMP accreditation. Our full-time Responsible Pharmacist is on site for the management, preparation and dispensing of IP during working hours as well as after hours where required. A qualified and clinical trial trained back up pharmacist is also in place for emergencies.
Liezl Nel (B.Pharm)
Responsible Pharmacist
Liezl obtained her Pharmacy Degree in 2001, Cum Laude, at the University of Potchefstroom.
She has vast experience as a Pharmacist in Retail, Hospital, Courier, Manufacturing and the Medical aid industry. In 2017 Liezl was looking for a new challenge and joined VX Pharma to expand her career into Clinical Research and Management.
Contact: liezl.nel@vxpharma.com
STUDY COORDINATORS & RECRUITERS
VX Pharma's study coordinators are clinically trained nurses registered with the South African Nursing Council (SANC). They are committed to high professional standards and keep abreast of Good Clinical Practice (GCP). In caring for their clinical trial patients, they take pleasure in harmonising their insight into the complexity of diseases with compassion for the task at hand. Currently, VX Pharma employs 2 full-time study coordinators:
Queen Thaba
Study Coordinator
Queen is a qualified and enrolled nurse who gained extensive ICU experience during her employment at Life Wilgers Hospital. Thereafter, she joined Vermaak & Partners, an independent clinical pathology service, where she worked as a phlebotomy expert. Over the past 5 years, Queen has concentrated on a career in clinical research.
Contact: queen.thaba@syzygyresearch.com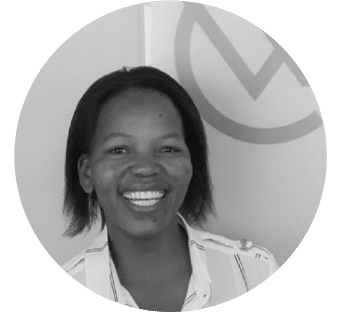 Dinah Pambo
Recruiter
Dinah has been working in a support role for 13 years in clinical trials. The past 4 years have been spent building relationships within Mamelodi and Atteridgeville clinics respectively. Moreover, Dinah coordinates door-to-door campaigns and out-reached programmes that have ingratiated VX Pharma in local communities.
Contact: dinah.pambo@vxpharma.com
STUDY INVESTIGATORS
We value the symbiotic nature of our relationships with clinical trial investigators – through their crucial contributions to our research studies, they gain the advantage of medical progress by being at the cutting edge of new medical therapies that improve the health of people around the world. The knowledge they gain in this process means that they are able to offer new treatments to their patients.
Dr Esmé Venter (MB ChB)
Research Physician
Esmé is a General Physician with more than 17 years' experience in the clinical research industry. She obtained her MB ChB degree at the University of the Free State in 1988. She started at VX Pharma in November 2017 in a part-time investigator role.
Contact: esme.venter@vxpharma.com
Dr. Lelanie van Zyl (MB ChB)
Research Physician
Awarded an MB ChB degree from the University of Pretoria and a Diploma in Sedation and Pain Management from the University of Western Cape, Lelanie practices as a GP and has seven years of clinical trial experience.
Contact: vanzyl@syzygyresearch.com
Dr A Annemarie Stapelberg (BSc Hon, MBChB)
Research Physician
Awarded BSc (Botany and Zoology) and BSc Honours (Zoology) degrees from University of Potchefstroom as well as an MB ChB degree from University of Pretoria. Annemarie practices as a GP and has seven years of clinical trial experience.
Contact: stapelberg@syzygyresearch.com